If you are offended by bad language please close this window now
Mr C was published on 20 July 2012, just days before the Olympischeiße. From that moment he set about a tour of these isles in order to meet and greet as many wellwishers as possible, sort of in tandem then with the Olympic flame which was busy trying to win hearts and minds to the Olympic dream of moving as much public money into private pockets as possible. That evening Mr C arrived at Space Station Sixty-Five on the first of many, many stops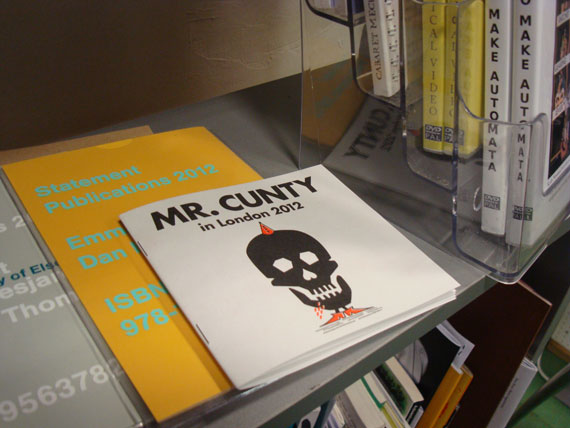 Local musician Iron Fist is pleased to score a copy at SS65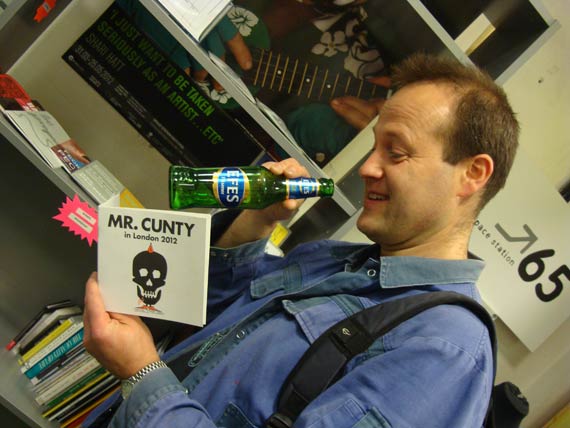 Consensus-reality window-displays of the multi-present. Mr C says "location is everything"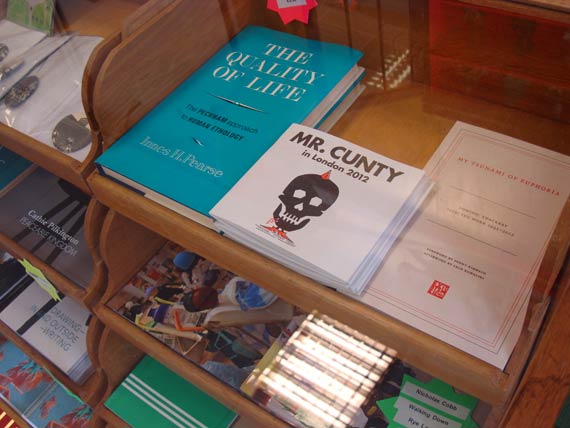 Hipsters at SS65 know beauty and they know a good thing when they see it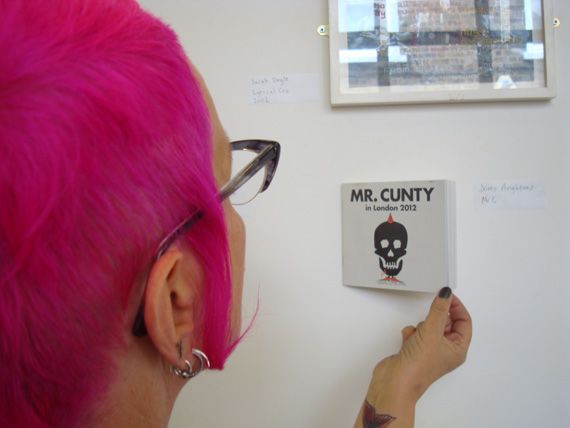 Mr C says "getting to know you, getting to know all about you"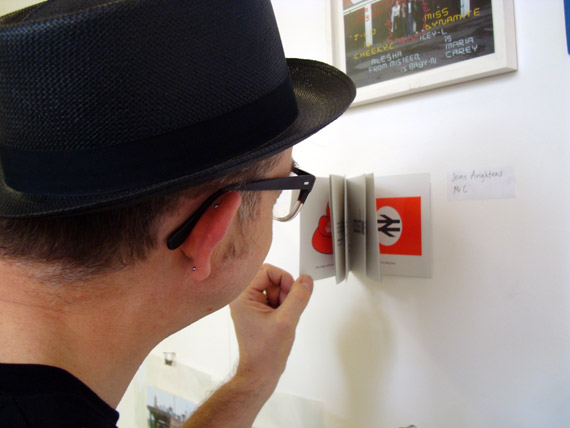 Mr C became available from The Bookseller Crow the very next day. Says Mr C, "eye level = buy level" (21 July 2012)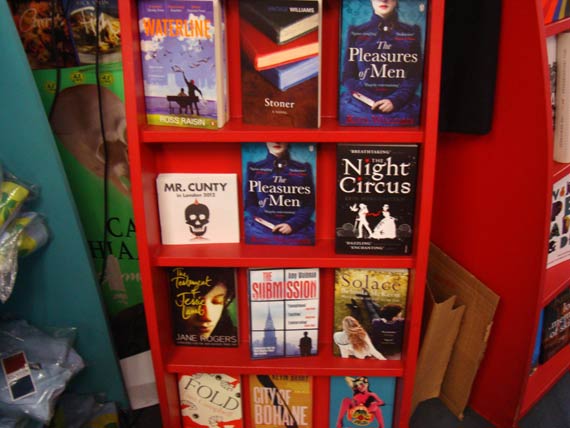 The tour kicks off properly right in the belly of the beast. Photo courtesy Richard Nicholls Archive (24 July 2012)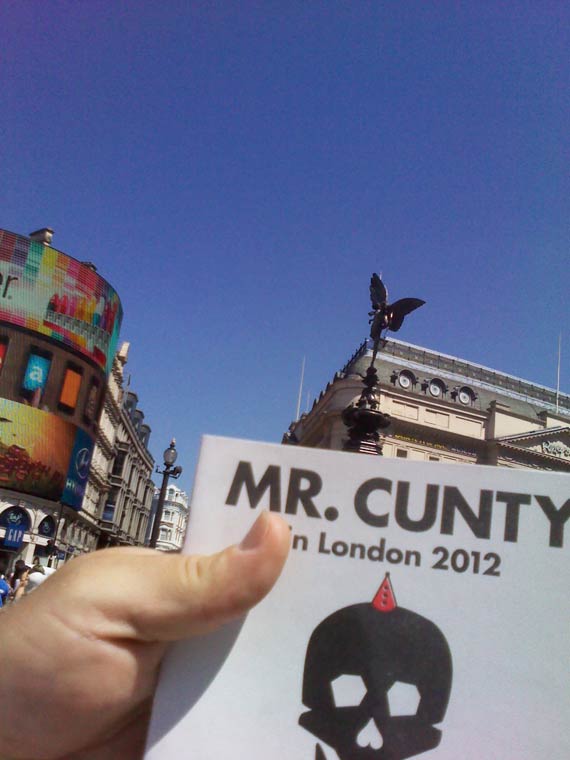 In the spirit of internationalism Mr C is already making lots of new friends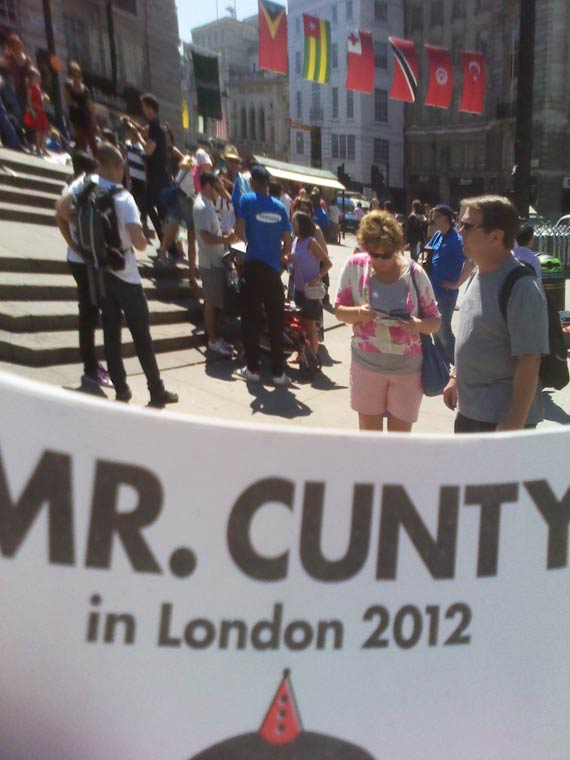 So many places, so many famous faeces to meet n greet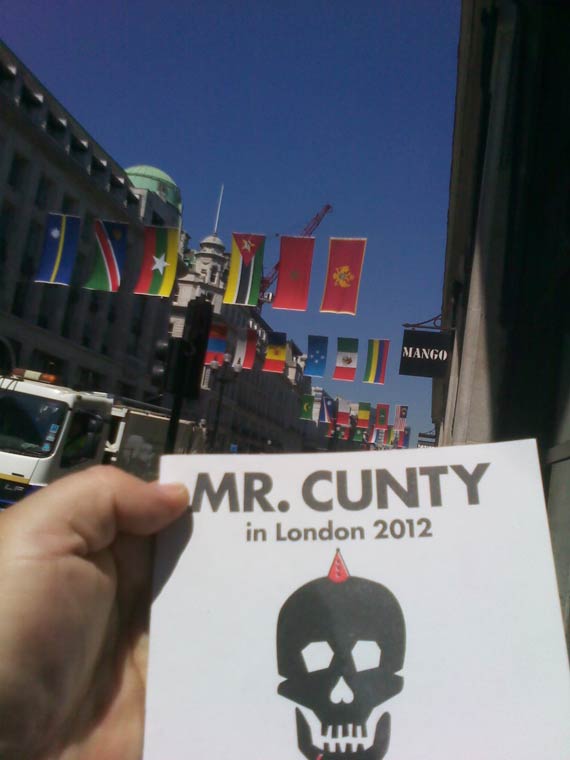 Taking a rest on a Boris bike, this is the most exciting part of the Olympischeiße so far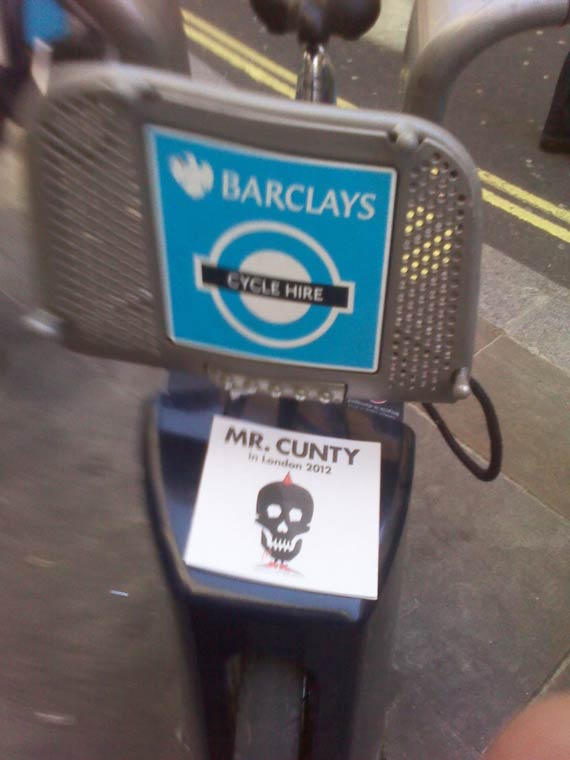 Mr C wins the prestigious Frog Morris Mouth Soap Award for Excellence at the closing ceremonies of the No Now! expo at the Space Station 65 gallery. Woo woo! It's a time to shine the impossible shine, to dream the impossible dream, Mr C is going for gold and standing tall for every cause at this once-in-a-lifetime ne'er-to-be-repeated international festival of excremence! Says David Beckham: "amazing" (29 July 2012)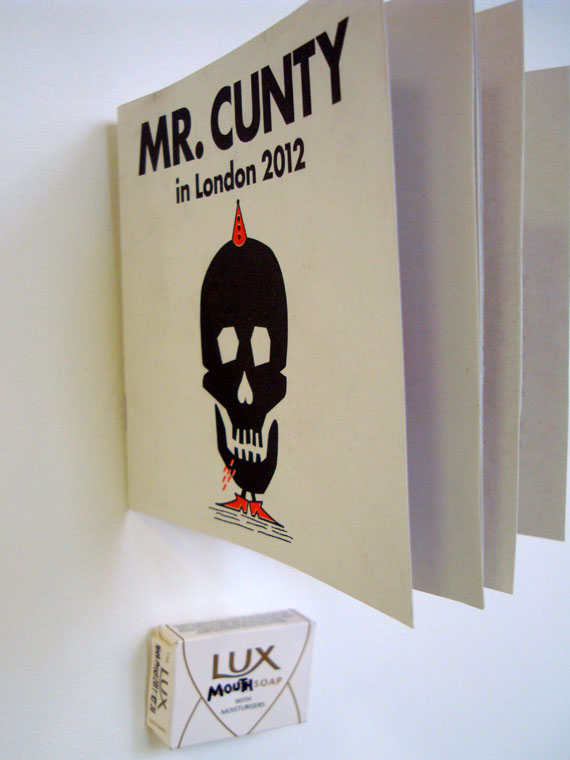 Mr C continues making new friends wherever he goes. Today he's with naked people. Mr C loves naked people! Why not invite Mr C to your town too? Photo courtesy Daniel Jewesbury Archive (1 August 2012)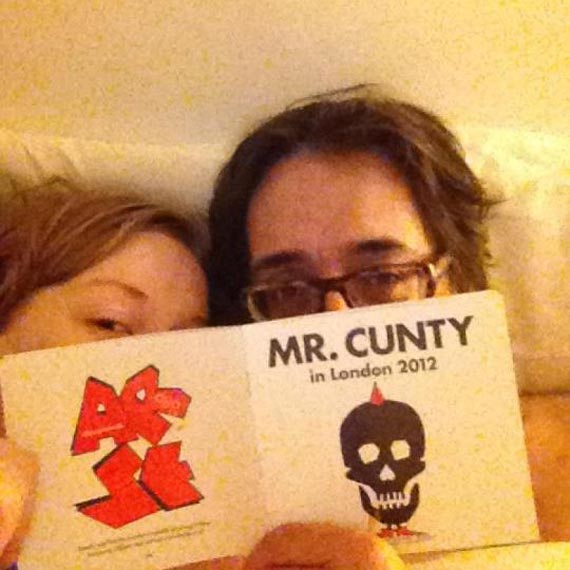 Legacytastic. Mr C will never give up the meetngreet. One highlight today was meeting Wenlock by County Hall. Wenlock is one of the shitty Olympic mascots of course, dreamed up by a creative team chained to a radiator in a dank basement somewhere in Hoxton for about five minutes about two years ago. Now that's what I call quite legacy! (3 August 2012)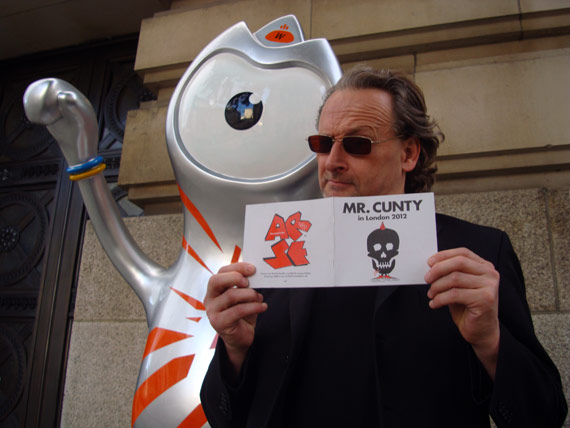 Mr C has been at large in Belfast and made lots of new friends. That's Belfast in the North of Ireland of course, just overseas. Photo courtesy Daniel Jewesbury Archive (3 August 2012)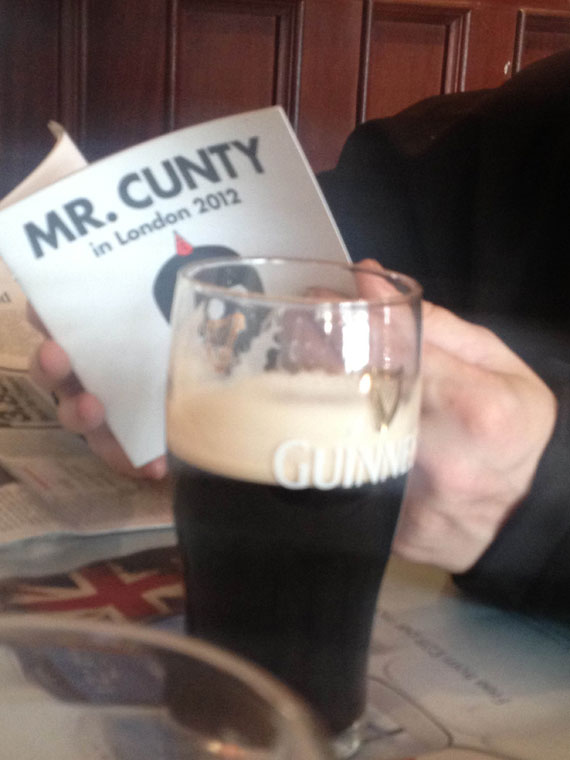 If Mr C could hold a note then he would quite like to teach the world to sing while you force-feed your kids with coca-cola, cardboard mcdogfood and cadbury's choclit through a funnel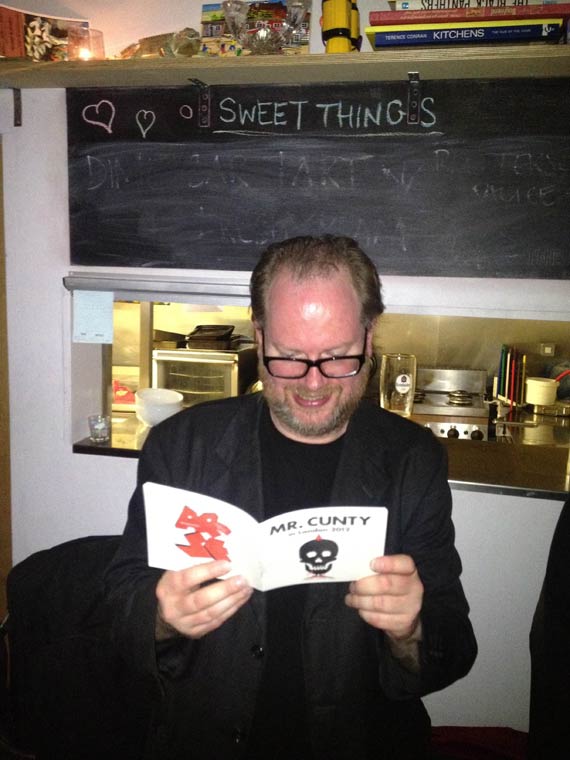 Mr C is at Headingley today watching the cricket between Babylon and Azania. Mr C totally loves sport but hates the Olympischeiße (4 August 2012)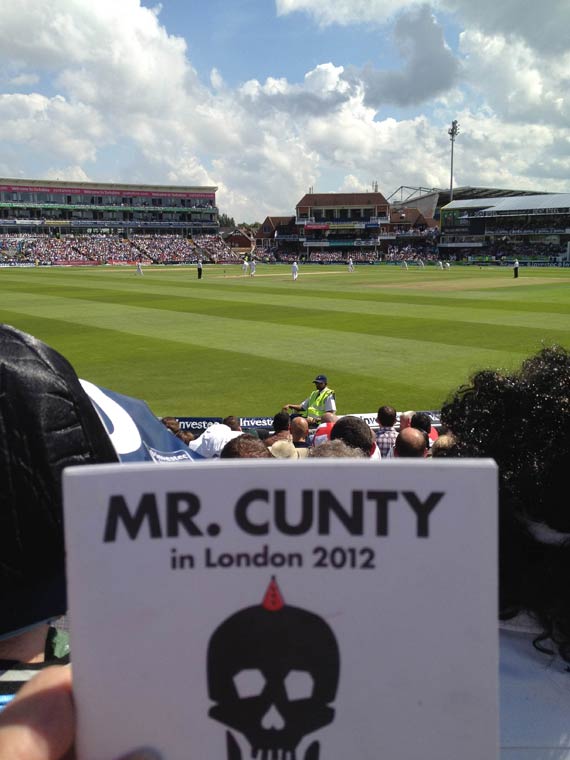 Live at the Nuremberg Rallies, Waltham Forest, London (5 August 2012)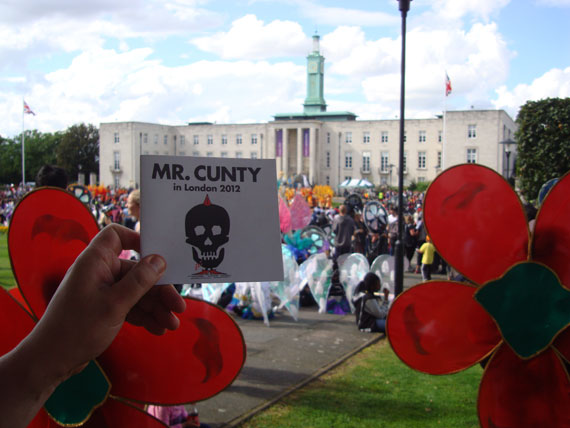 Mr C is in Huddersfield and has already met Peanut. Peanut loves Mr C and Mr C loves Peanut. Balance has been restored to the force. Photo courtesy Cash Clay Archive (6 August 2012)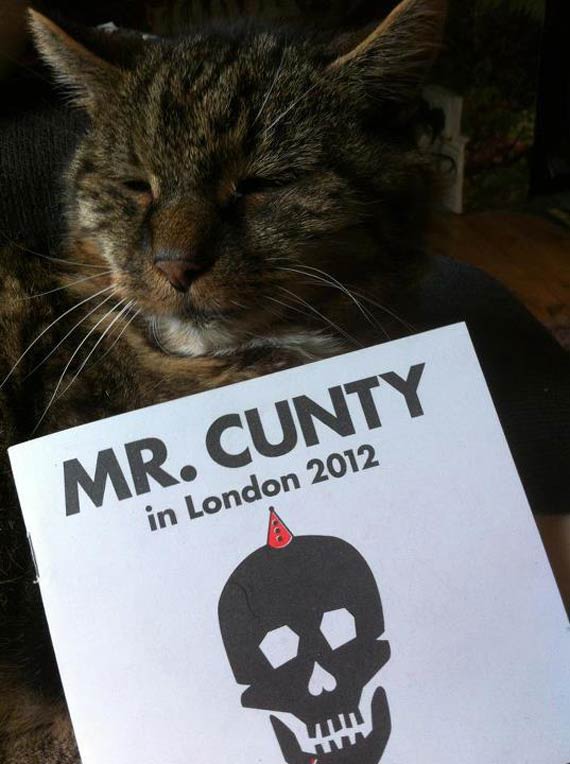 Mr C has also met Rufus. And the many mysteries of the yin-yang symbiosis of love continue on their Zen path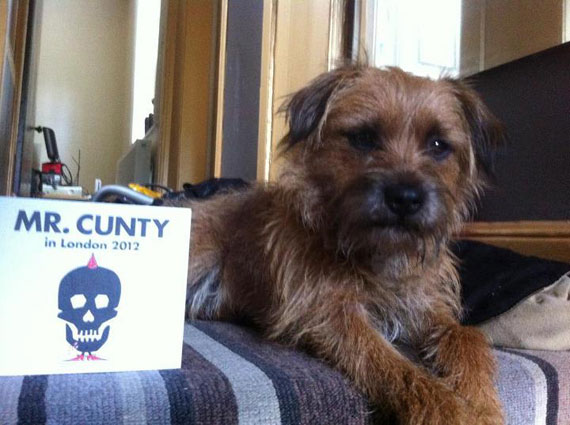 But here's an "amazing" (© David Beckham) thing, Rufus can actually read if the type size is big enough. Says Rufus, "Mr C has it damn straight, all the important things are here, properly researched and I shall be recommending him to the others in my book group"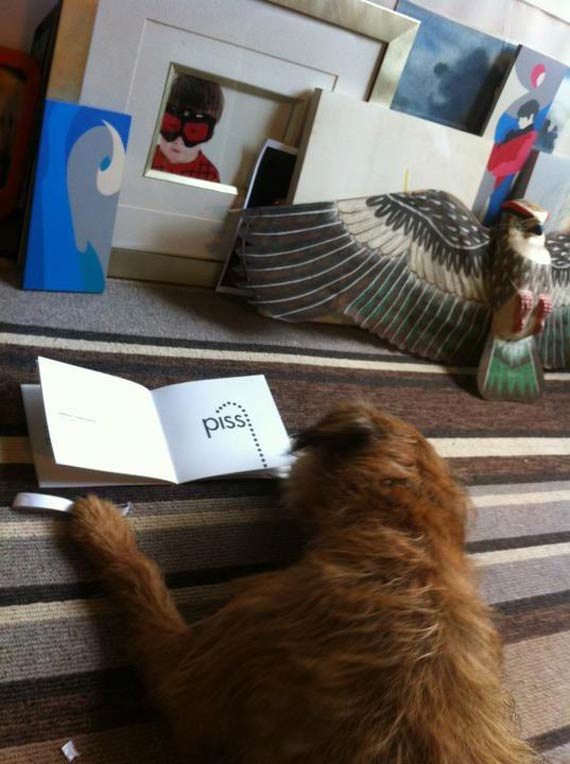 Mr C is on perpetual walkabout, he's just mad for the racket. Here he is with Raindance's Suzanne & Elliot saying "Hiya!" to Wenlock again, just by the Oscar Wilde statue off Duncannon Street. Wenlock is all branded up to look like some paperchase giftwrap or something. "Amazing!" (© David Beckham) says Mr C "and so creative too. Well done Cultural Olympiad!" (7 August 2012)
"Fucking Wenlock," says Mr C, "he's everywhere. That's three times now. When do I get to meet Mandeville?" Mandeville, as Olympischeiße aficonados will know, is named after Stoke Mandeville. That's the hospital where Jimmy Savile famously used to fuck all those corpses in the abattoir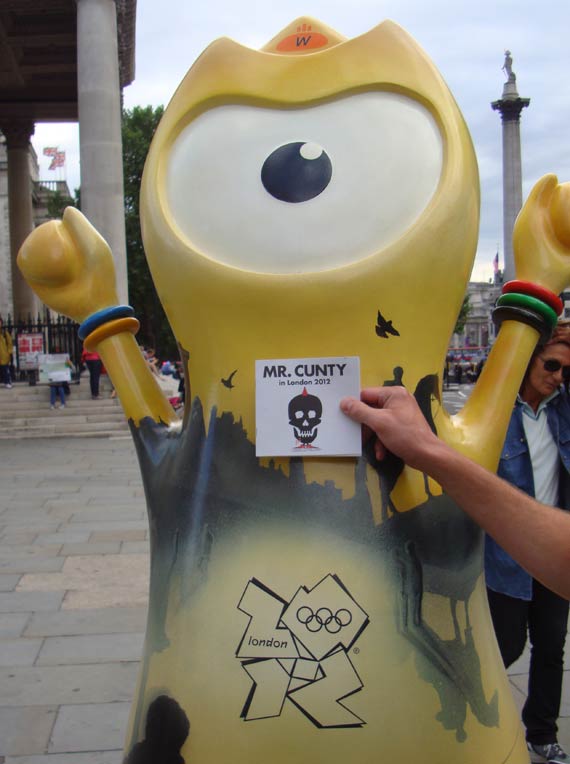 Mr C is enjoying a nice fry-up at Château Grimes in beautiful Brisbane-on-Sea on the other side of the world. Photo courtesy Declan Grimes Archive (10 August 2012)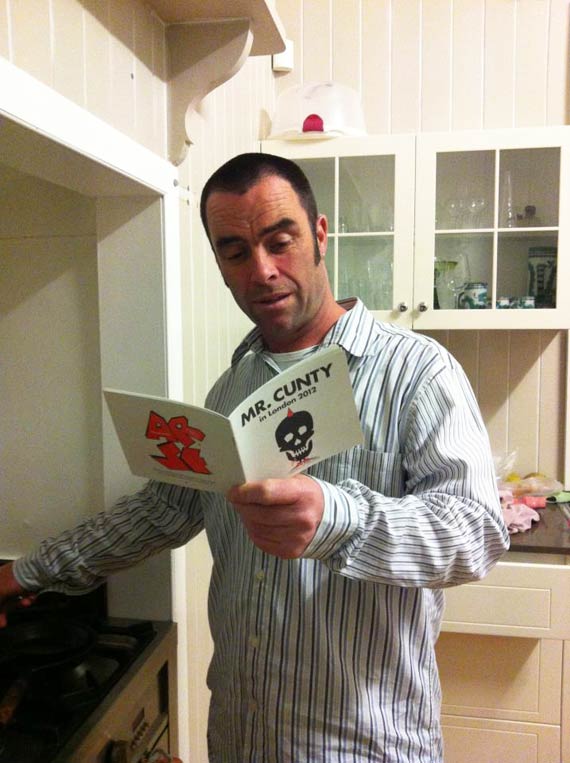 His relentless schedule continues elsewhere in a parallel universe as Mr C makes his daytime TV debut with Basildon's finest — K from Kunt and the Gang — and they spent a lovely afternoon making sweet noises about Noel Edmonds together. Photo courtesy Chris Presswell Archive (17 August 2012)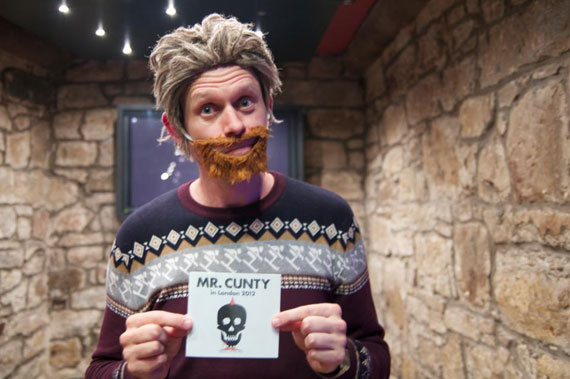 News just in from Edinburgh — the city of dreams that gave us the Royal Mile, the Castle and the fabuleux Centurion public haus — anyway, Mr C is still making lots of new friends. Here he is out late with Fay Fife and her friend Colin. It looks a bit like Fay is finding it difficult to read but it was quite dark and guerrilla cameraman legend Murray Ramone was experimenting with some of his famous dutch angles so, trust me, Fay really liked Mr C and Mr C loves Fay and the Rezillos of course. Photo courtesy Murray Ramone Archive (18 August 2012)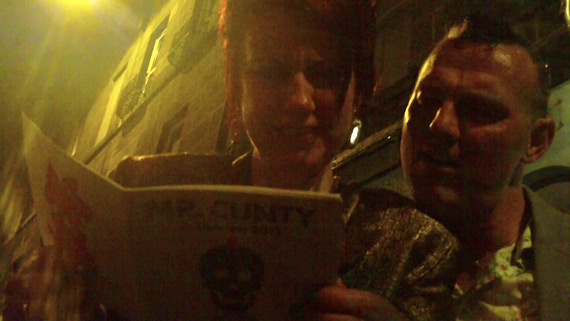 It's getting to the point where Mr C has travelled almost as many miles and met almost as many folk on his meetngreet as the Olympic matchstick managed to do a few weeks ago. Here we see the world-famous Mexican wrestler Grim Scott meditating shortly before mash-potatoing the Russian Bear (in a Grimlock of course) during the great Southend Mexican Standoff of August 2012. Proof then, if indeed proof were needed, that Mr C refreshes the parts that other spiritual guides cannot reach. Photo courtesy Grim Scott Archive (21 August 2012)
Mr C relaxing in Edinburgh again, this time behind the closed doors of the broad, majestic Cenny public haus. Is the glass half-full or half-empty? I'd say it's half-empty of course but you'd have to ask Murray Ramone, executive creative director of the world-famouse Shock And Awe management consultancy, who explains that "it's all in the camera angle". I agree with Murray. Photo courtesy Murray Ramone Archive (21 August 2012)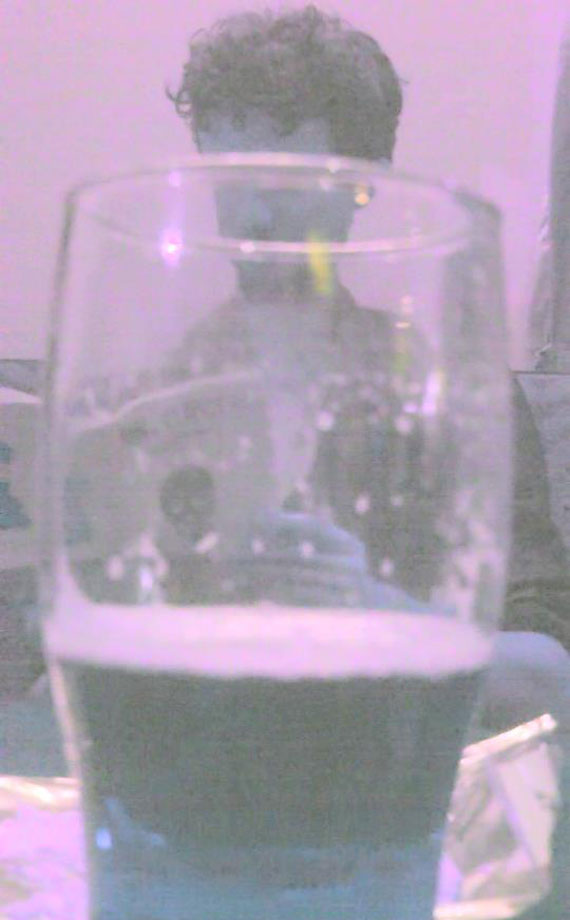 This is Dram Bowie, Mr C's workshy literary agent, introducing Mr C to a proper job red telephone box, and only 400 miles from Les Londres. Mr C is always prepared to go the extra mile for genuine Aulde Englishe Telephonee (24 August 2012)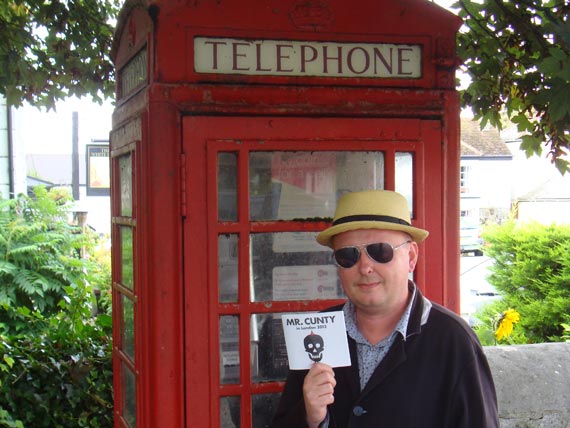 Mr C among the remnants of all that jubilating from a while back, all that bunting, all that cunting, ah them were the daze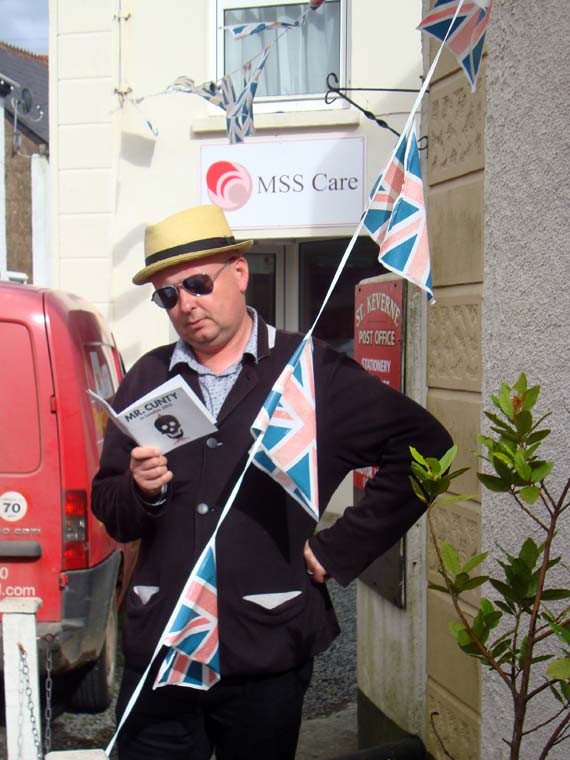 GILLAN !!!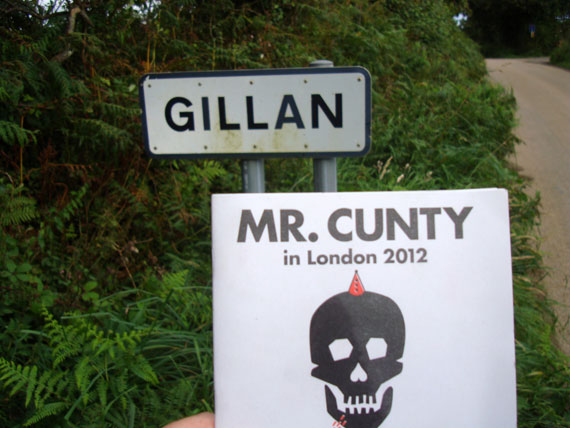 On a diplomatic mission to the La Silla observatory in Chile and the stars beyond. Unfortunately Mr C did not have the correct paperwork so he got no further than the gate but at this point we think Mr C has definitely travelled further than that joyless torch relay (© J Goebbels esq) did a few weeks ago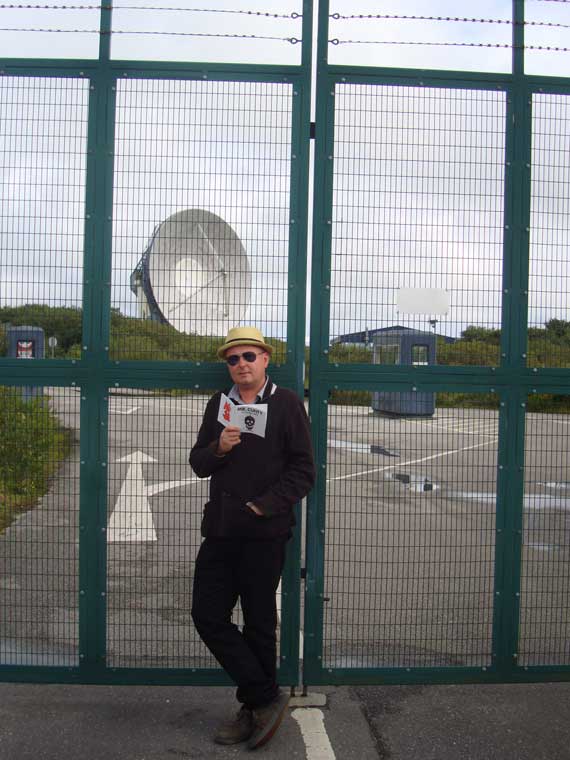 We need to make books cool again. If you go home with someone and they don't have books, don't fuck them says John Waters. No worries there for young Roger, he's got loads of cool books of course (3 September 2012)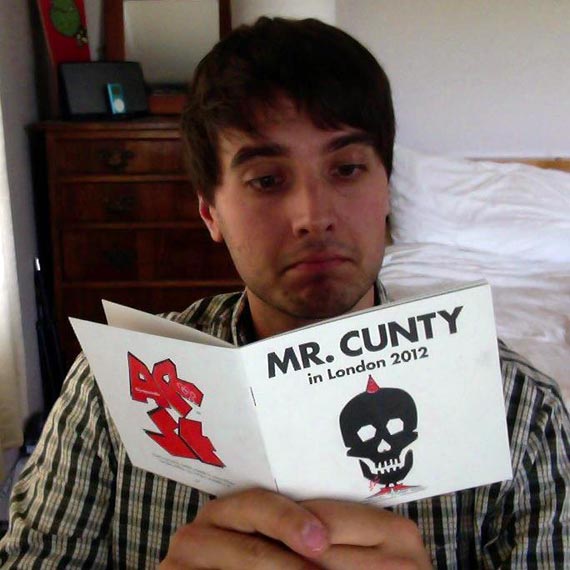 Mr C grew up on the cutting/bleeding edge of a living death in a new-build Brookside-style estate on the outskirts of Colchester. "There was a lot of attrition," he says, "so I'm always pleased to experience things from a gentler perspective". Here we see Fenris (aka The Wolf) getting to grips with Mr C and starting a trend for mirror-reading through shards of mixed charcoal and light. "Bravo!" says Mr C, "Vive la différence!". Photo courtesy Fenris Oswin Archive (3 September 2012)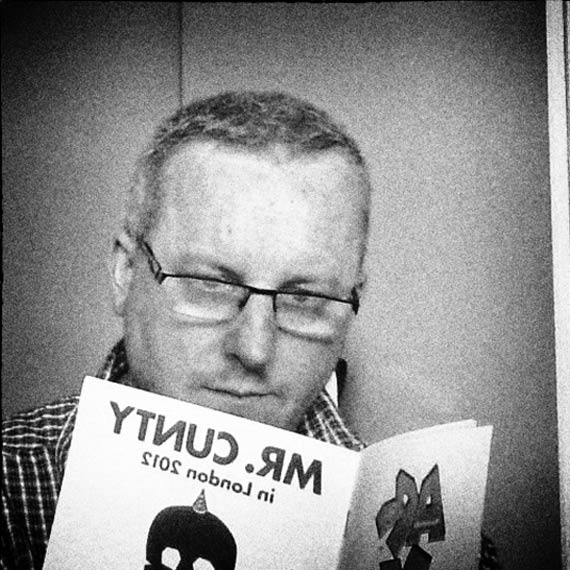 Mr C continues the meetngreet with a tour of the Homes & Gardens of Buckinghamshire and Hertfordshire. Here we see part one, in Quainton, Bucks. Says Mr C "I'm really enjoying this part, I feel I'm really getting to know the people of Merrie Englande, and that they're as interested as I am in spreading the love." Photo courtesy Simon Murray Archive (4 September 2012)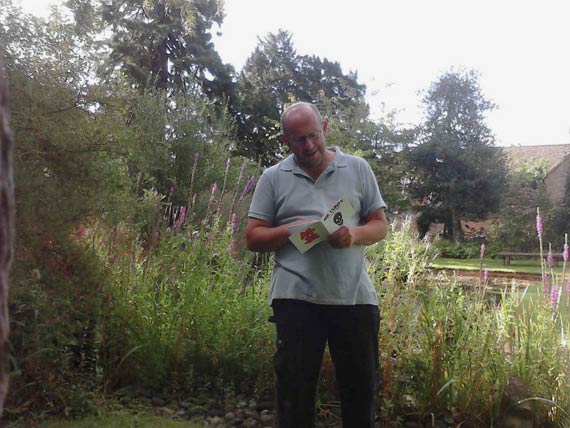 Part two of the homes n gardens of Buckinghamshire and Hertfordshire tour. Here we see C twisting by the pool in Berkhamsted, Herts, during the last days of Summer 2012. "Ain't life sweet?" says Mr C. Ain't it though?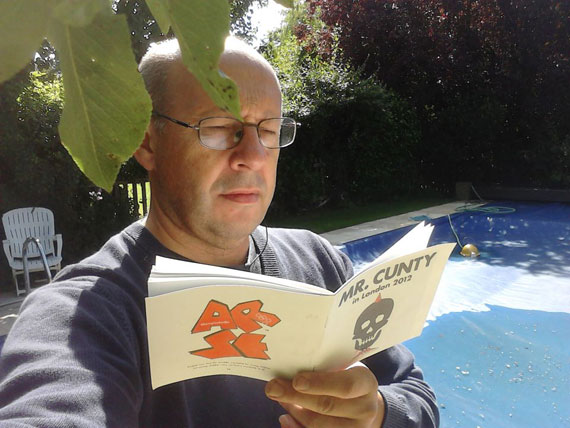 Part three of the Homes n Gardens tour and Mr C is back in Quainton, Bucks for some proper job rest n relaxation. "Hearts and mindfucks" says Mr C, "that's what it's all about. And I owe it all to Joseph Goebbels, Lawd Coe and that pig on the wire. What was his name again? Oh yes, Boris Johnson. What a great agency we make"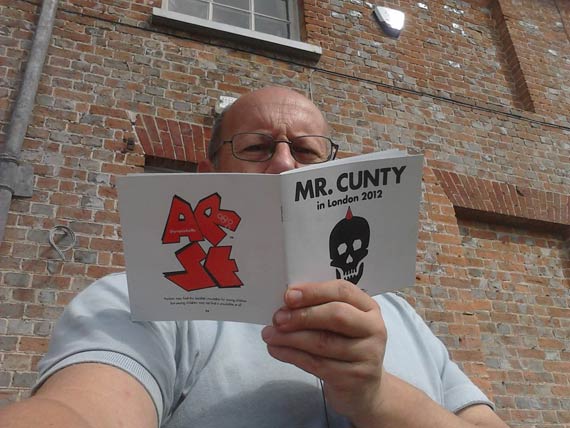 Today Mr C has been dominating the Yorkshire skyline outside the prestigious Henry Moore Gallery in Leeds. Mr C loves high art of course and was especially pleased that brother Seamus composed this fabulous end-of-summer photo using the golden section. Mr C loves going for gold obviously and that lovely super8-ish texture round the edges reminds Mr C of all the wonderful childhood holidays he never actually had. Photo courtesy Seamus Conway Archive (7 September 2012)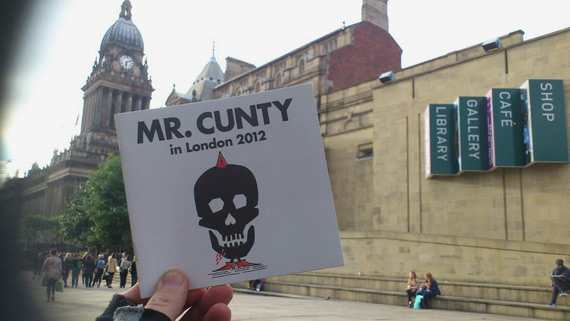 This may be both the cutest and most literary picture of Mr C's meetngreet tour so far, in which our good friend Murray Ramone, executive creative director of the world-famouse Shock And Awe management consultancy arrives at a sort of total agreement with some of Mr C's high-faluting conceptual stuffs. Photo courtesy Johnny Parkerrek Archive (12 September 2012)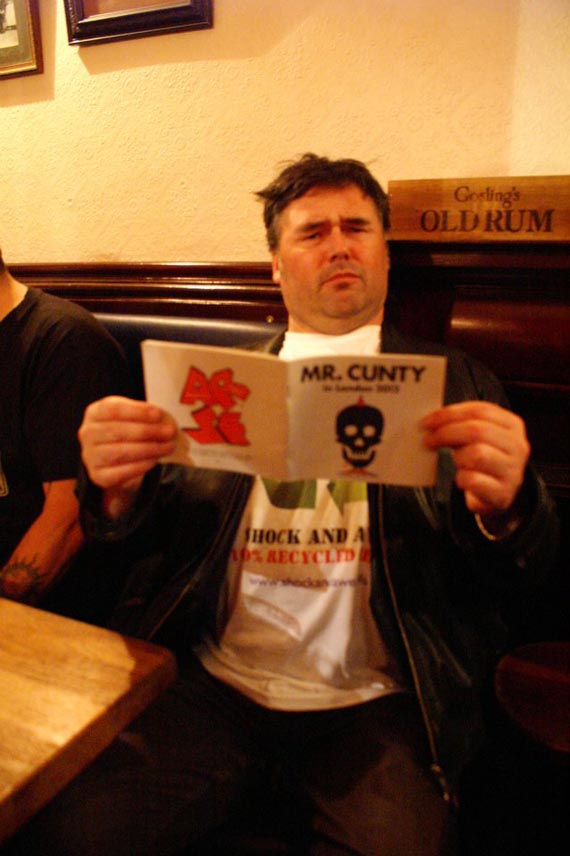 Mr C loves a good knees-up. Steve Racket, guitarist for the Lurkers, demonstrates a sort of Hegelian-Faustian take on the auld J Geils Band favourite in which, of course, Mr C's blood ran cold when he found out his asshole was in the centrefold. Have another drink, Mr C, and all will be well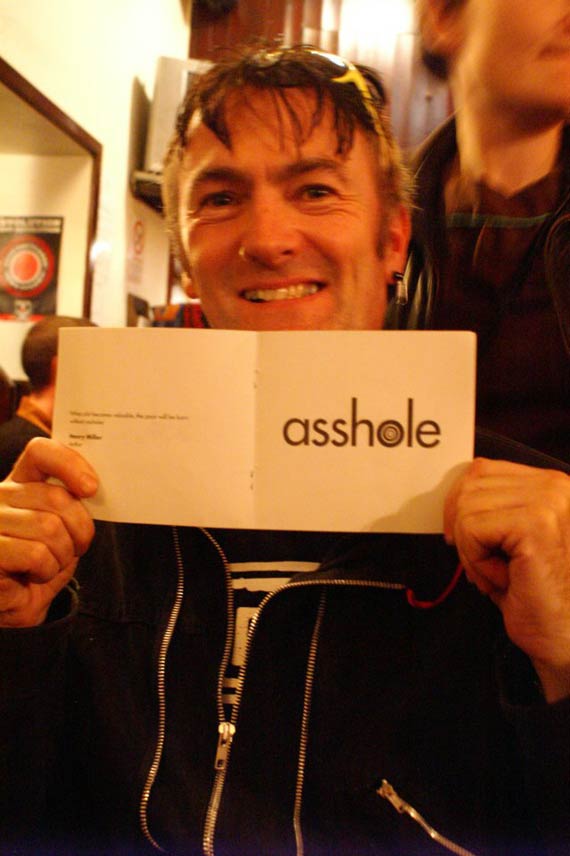 Nelly, drummer for the Lurkers, fully endorses Mr C and all associated c-stuff. Says Mr C: "Hanging out with the lads from the Lurkers was top dollar, I had the best time. I'm paying for it now of course, in spades, clubs, diamonds and hearts". Shine on, Mr C, and get some rest, this tour is far from over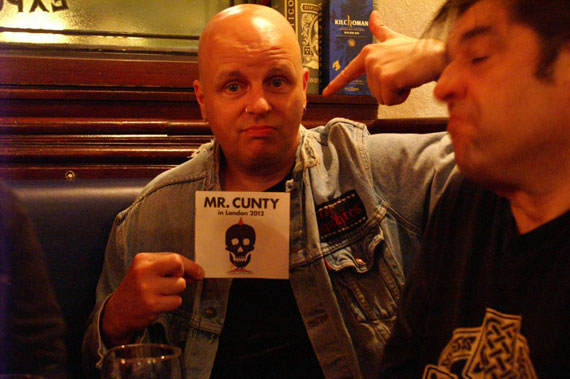 Mr C relaxing and boozing after the Someday All The Adults Will Die event at the Hayward Gallery with some of the world's most eminent zinesters. From left to right: Michael Baxter (Kill Your Pet Puppy), Graham Burnett (New Crimes), Tony Drayton (Ripped & Torn), Chris Low (Parkinsons, Apostles). Says Mr C: "The show was ace and I loved the Kill Your Pet Puppy, New Crimes and Ripped & Torn stuff the best. Oh and Gee V's stuff of course." Photo courtesy Chris Low Archive (14 Seotember 2012)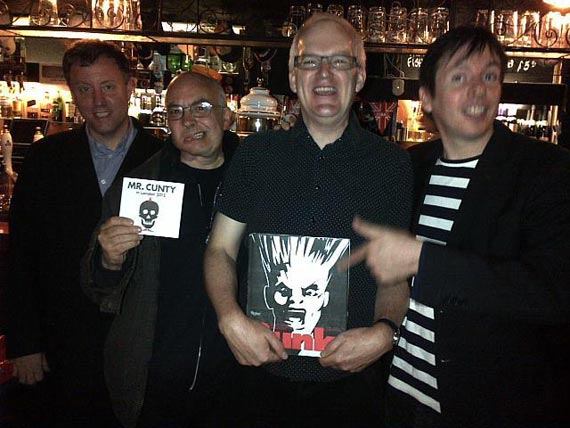 Mr C loves fine dining and when he heard there were some rich folk eating in a fancy dining car he thought to himself well they're most pobbably drinking coffee and smoking big cigars so rushed down to join them. Lucky for him Ches was taking time out from her relentless Taichizo schedule and had copped a few margaritas before he got there. Initially she had not been a fan of course, due to the use of some of the vocabulary, but at this point she threw caution to the wind and screamed "Hallelujah! I'm a believer!". And when Gee heard the commotion well she had to get in there too (14 September 2012)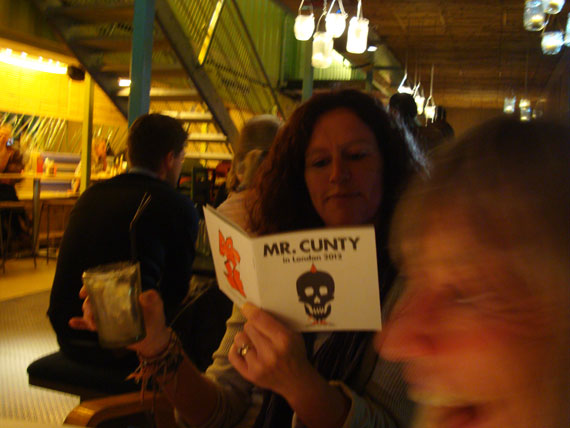 Sous les pavés la plage. Et sous la plage.. la plage encore. Monsieur C loves the beach. "See you on yon beach" he said, perhaps a bit affectedly. And he meant it too, both in the physical and the metaphysical sense, but mostly in a sort of acceptance of his own lack of proximity to a beach. Luckily good auld Smita was kind enough to take him at his word. "C'est la plage!" says Monsieur C, "C'est la vie! Mais n'oubliez jamais, c'est la guerre en plus!" Photo courtesy Smita Dey Archive (September 2012)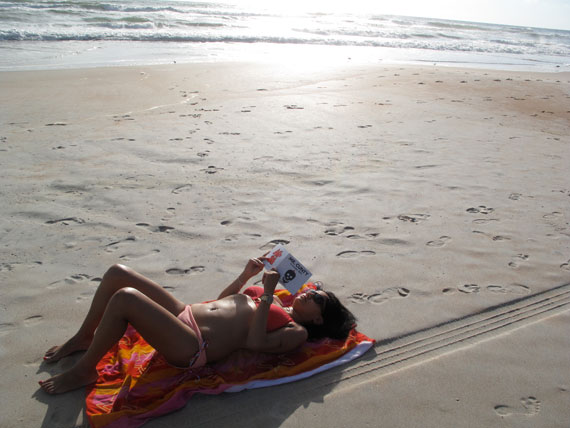 He's already been to Paris, already been to Rome, but what did he do but miss his home? "Actually, no," said Mr C. "Not at all." To be fair, Mr C was feeling sort of stateless at the time and when Smita was showing Mr C around Florida and they happened upon the Kennedy Space Center, well a sort of destiny thing happened. To cut a long story short, expect to see lots of little Cunties on Titan soon. "Soon" in the cosmic sense of course, but soon enough anyway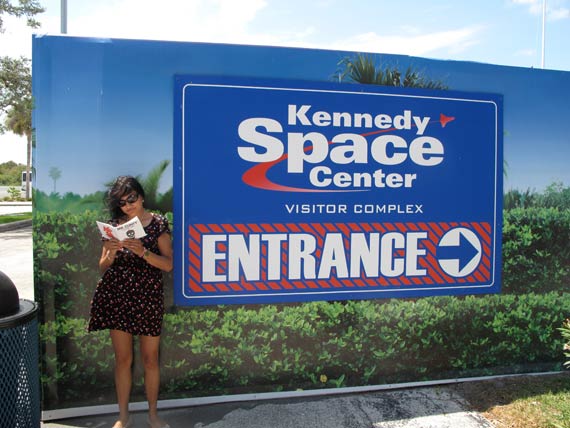 Gentle reader, a short interlude and soon we'll back on tour with Mr C. It seems that Mr C has sort of caused a split in the feminist movement, mostly due to his insistence on using a certain kind of crude vocabulary. This is something Mr C takes very seriously so the little people back in the office sought some clarification on the matter and were pleased to hear from Christine Redfern, author of "Qui est Ana Mandieta?" who kindly set the record straight (21 September 2012)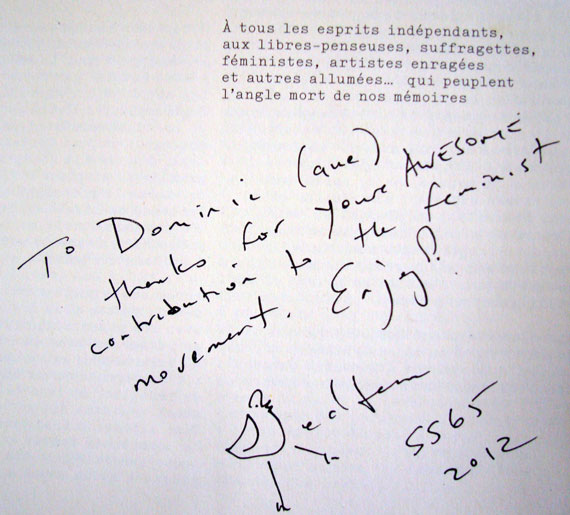 Oh to be in England in the summer. Or kind of in the summer, in Malika's garden, full of rare shrubs and flowers and birds and bees and cigarette trees and all that. Says Mr C, "Malika was feeling the rapture, I was feeling the rapture. I saw this butterfly beat its wings and 6,000 miles away a tidal wave engulfed hyperbole." Photo courtesy Malika Mezeli Archive (21 September 2012)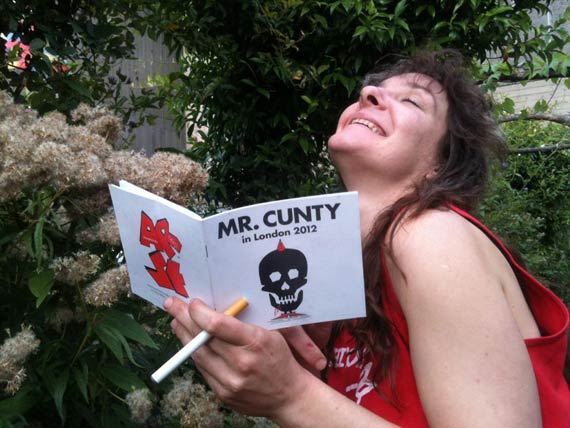 Seamus was kind enough to take Mr C to Blackpool where they enjoyed many lumpen frivolities, imbibing too much alcohol, eating loads of chicken nuggets and shouting and swearing and being sick on the pavement. Photo courtesy Seamus Conway Archive (22 September 2012)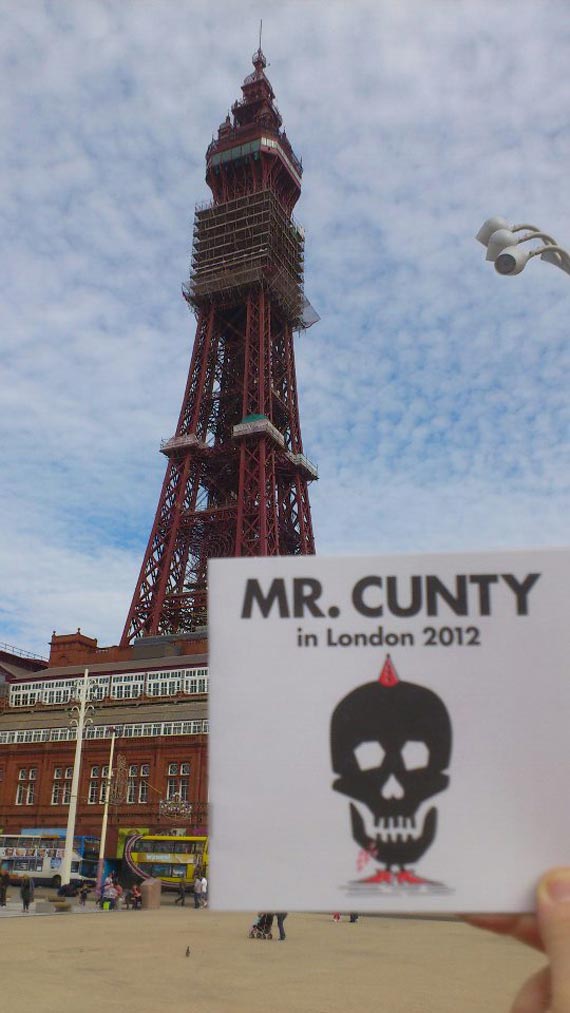 Seamus took Mr C to historic Shipley, to the village built for his workers by frightening yet at the same time strangely philanthropic Victorian industrialist Titus Salt (a bit like an early Jimmy Savile). Mr C is seen here stopping for a refreshing drink at the well installed by Titus to ensure his workers didn't go thirsty after he banned them all from drinking. Note the inscription. Photo courtesy Seamus Conway Archive (1 October 2012)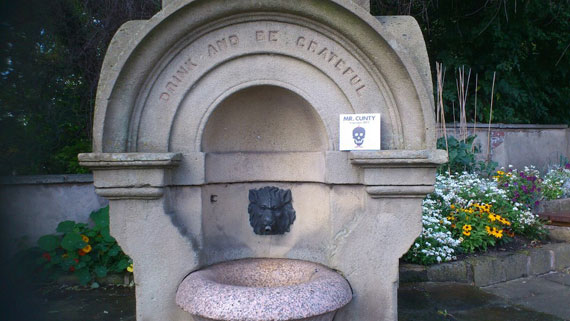 Mr C loves very few things more than a magnificent erection. This outstanding specimen marks the 200 mile spot between Les Londres and Edimbourg and is only 3 miles from Les Leeds. These are three of Mr C's favourite cities, each one packed to the rafters with many of Mr C's very best friends. Photo courtesy Seamus Conway Archive (1 October 2012)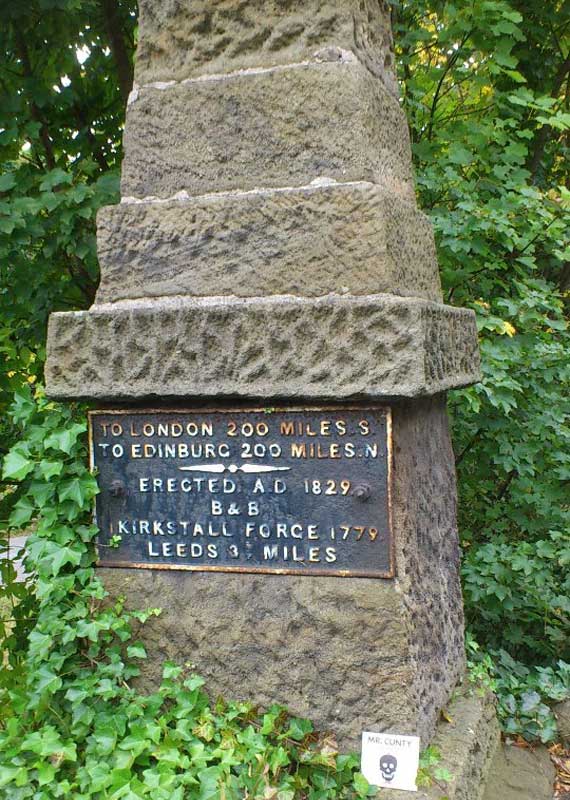 You will perhaps not be surprised to learn, given the friends and associates he keeps, that Mr C is a life-long socialist. In the past week a dead Cunty FM DJ has given Yorkshire some bad publicity so, to counter that, Mr C visited Huddersfield at the weekend and paid his respects at the bronze statue in memory of Harold Wilson, the least offensive Prime Minister (and MI5 "person of interest" believed to have communist sympathies) that Britain ever had. Photo courtesy Seamus Conway Archive (7 October 2012)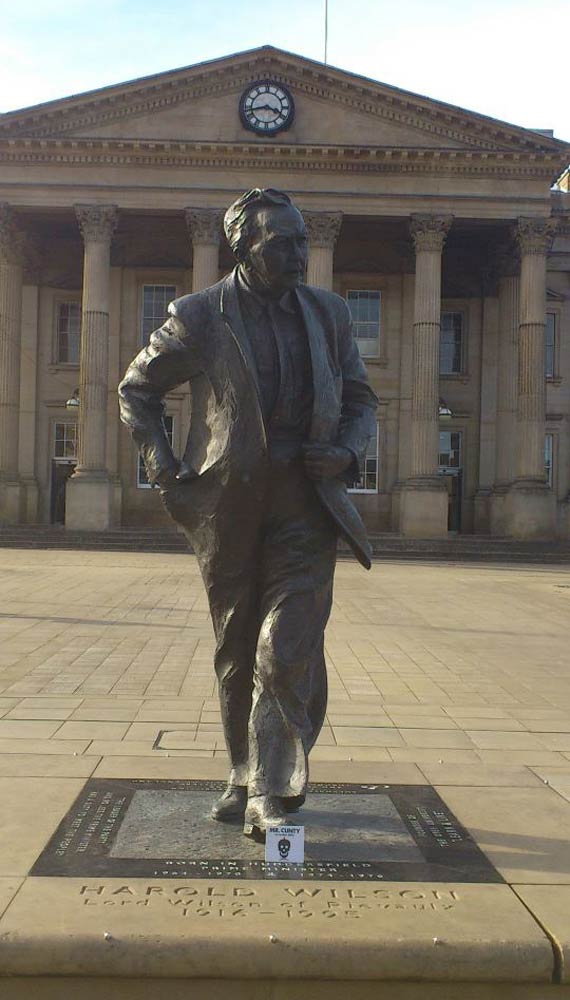 Mr C has made it to the end of the Internet. Shetland's motto, the Icelandic phrase "með lögum skal land byggja" is also the motto of the Icelandic police. A literal translation: "With law shall land be built." Equally, in view of the clearances that took place here as throughout Scotland: "með lögum skal land vera stolið." Mr C in Shetland series courtesy Marc Barry Archive (September 2012)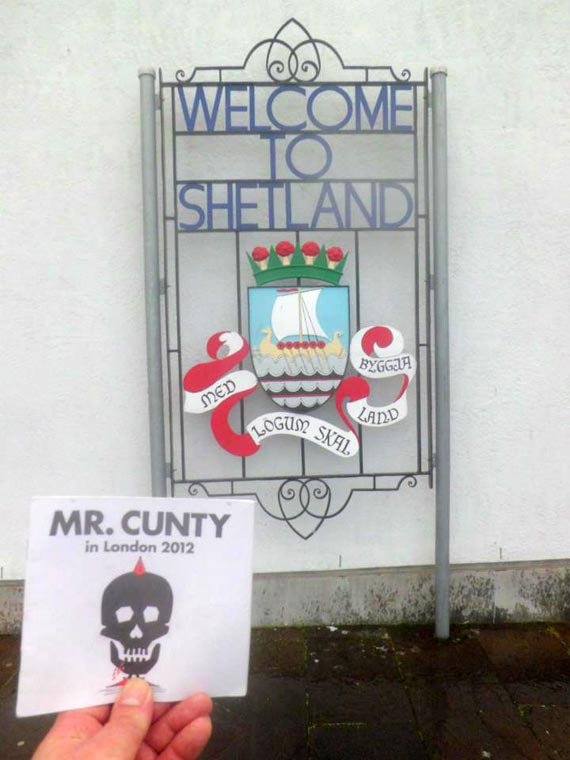 Blue Geo from Aith Ness, Bressay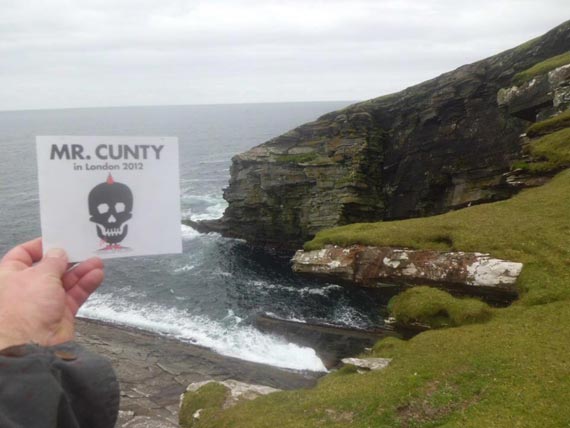 Bressay's 6-inch WWI 'North Gun'. Installed in the closing months of the war to defend the northern approach to Lerwick Harbour. Never fired in anger. Bressay boasts a similar 'South Gun' that protected the southern approach but Mr C said he couldn't be arsed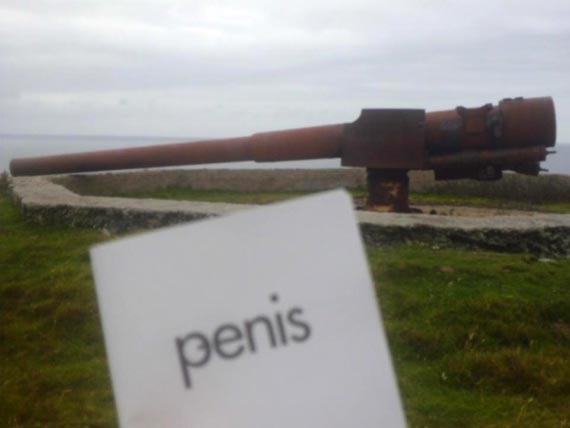 Odd cubby-hole, one of two either side of entrance to gun platform, Aith Ness, Bressay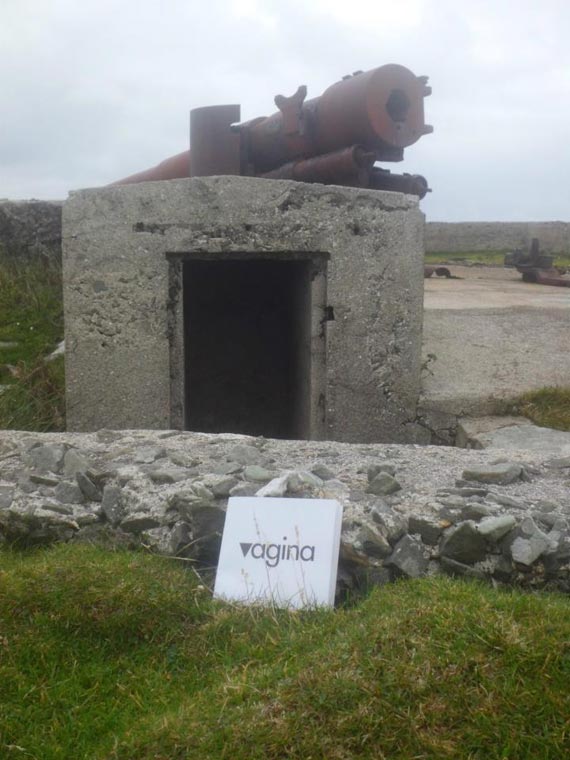 Breech-loaded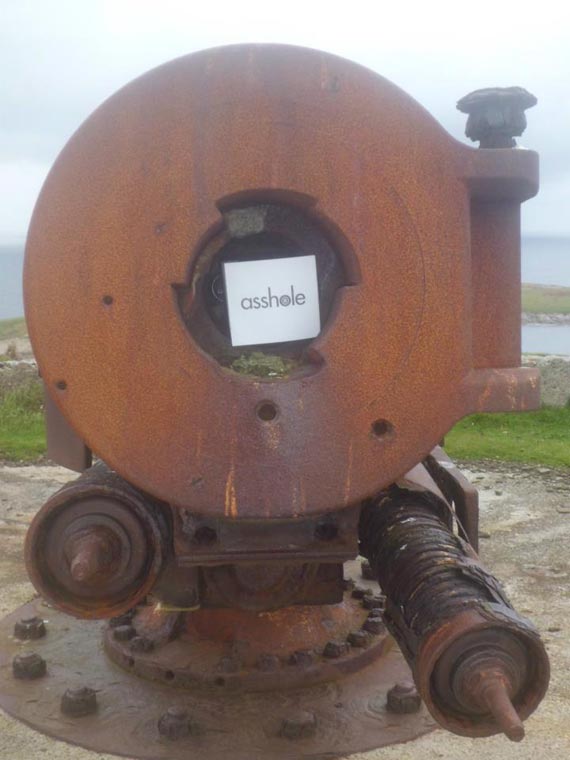 Laboured point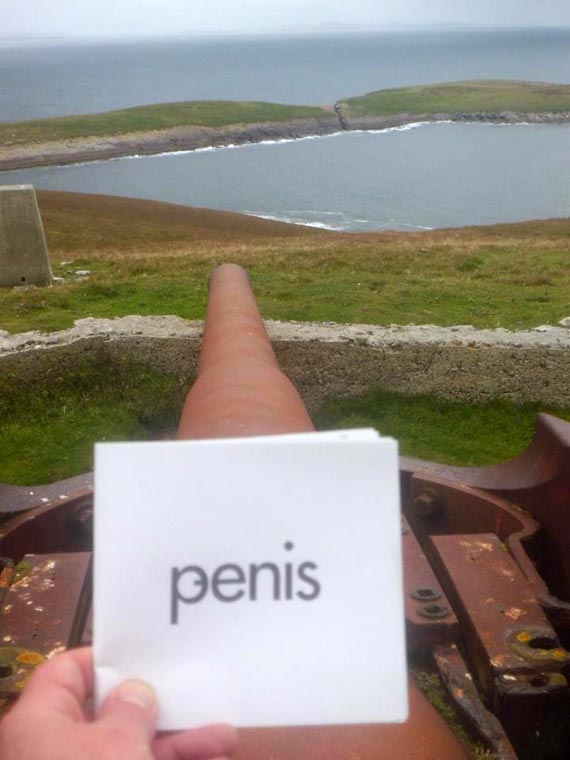 HW-Mill Grind-stone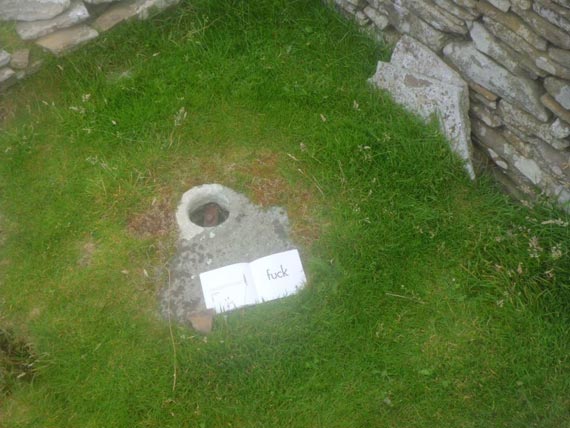 Clickimin Broch. The Olympic matchstick passed here just a few milliseconds earlier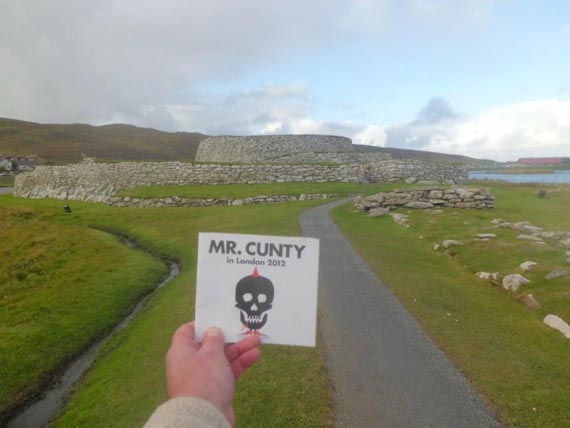 Bronze age hovelry at Clickimin Broch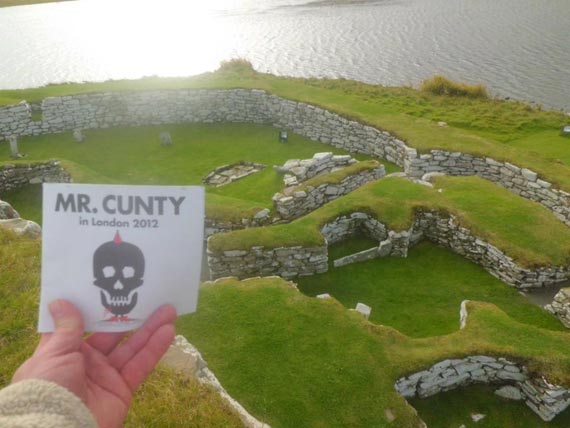 Mr C has had enough of Clikimin Broch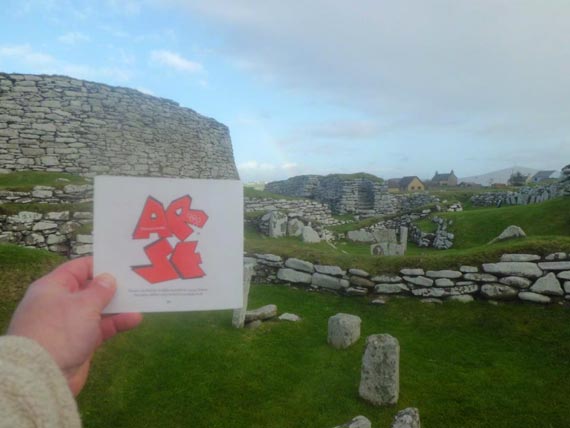 Mr C adjourns to the local big-pharma big-money mini-mall to stock up on LOCOG-sanctioned comestibles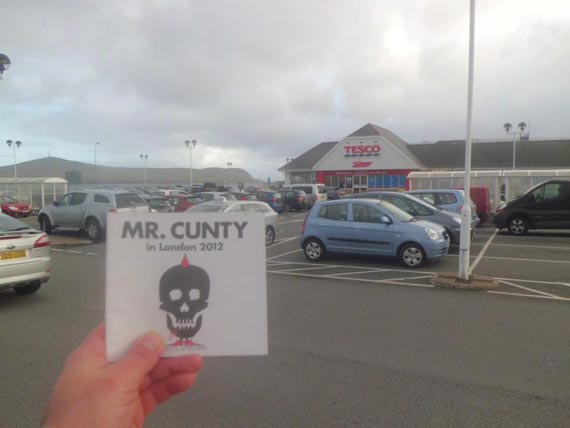 The Olympischeiße procession passed Lerwick Town Hall a bit earlier. We don't know if local dignitaries met n gret at that time but there was no rush of potentates to welcome Mr C and Mr B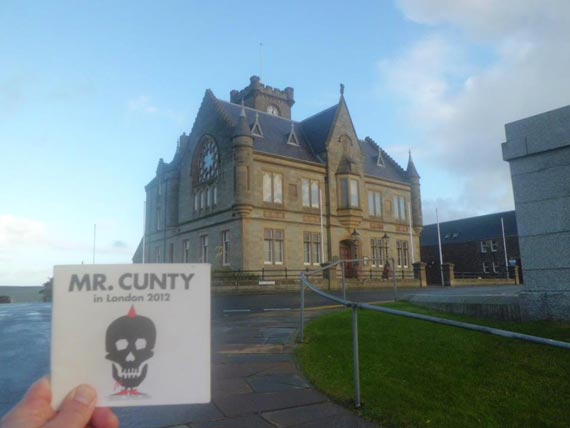 A visit to the local constabulary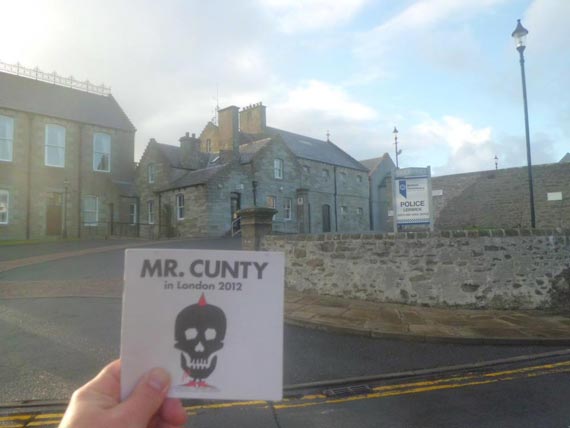 Local outpost of the Ministry of Truth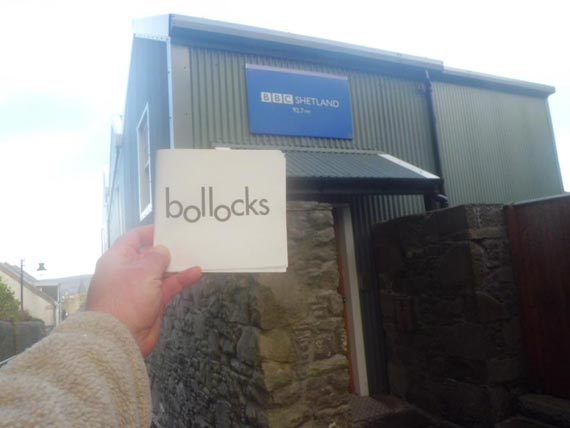 Mr C, Cow, Sheep, 2 lochs, hills, grass, Bressay, Shetland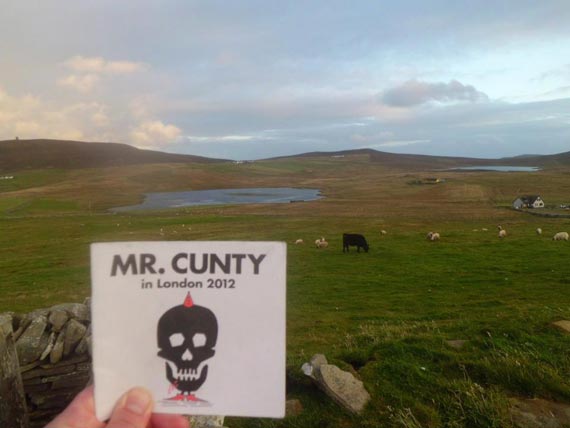 Bressay Lighthouse. Built 1856-1858, designed by brothers David and Thomas Stevenson and operational continuously from 1858 to 12 September 2012. Thomas Stevenson was the father of writer Robert Louis Stevenson, whose failure to take up engineering "caused [Thomas] much disappointment". High winds caused Mr C to crumple a bit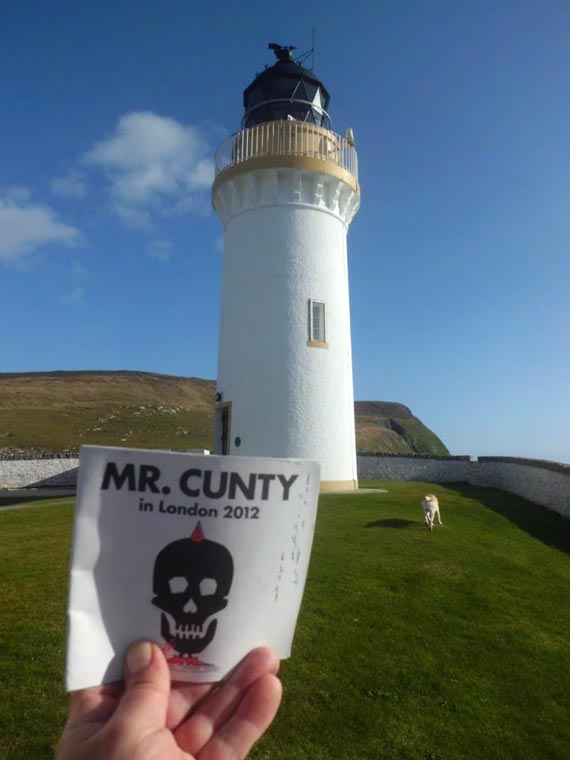 Bressay Lighthouse and buildings. The five red cylinders once held compressed air to power the (now absent) foghorn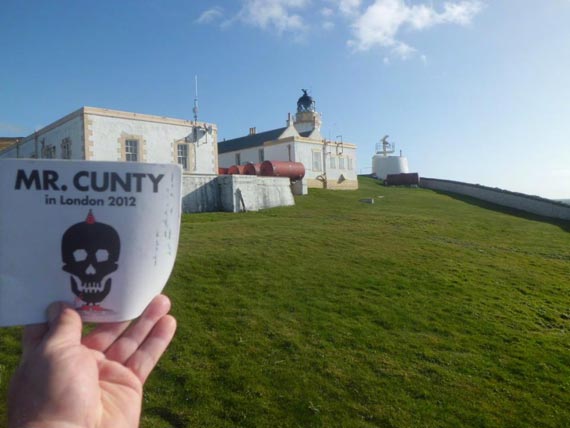 Bressay Lighthouse from the lower flanks of the Ord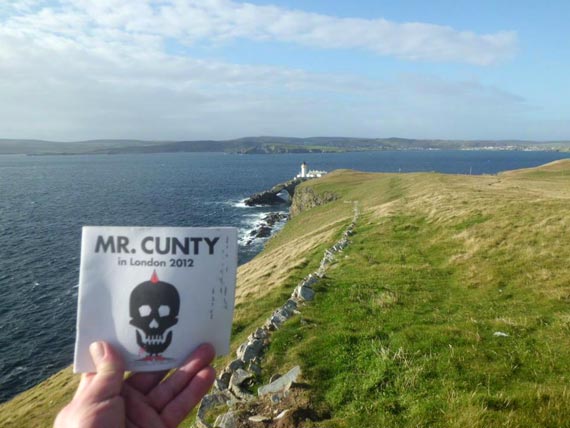 The abandoned (during late C19th) settlement of Grimsetter, Bressay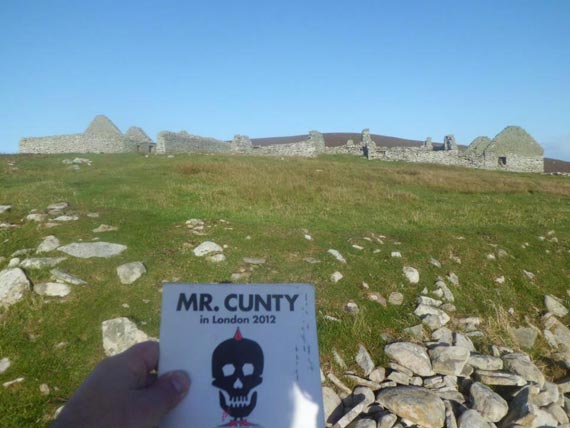 Mr C mistakes a built-in cupboard for a vacant shrine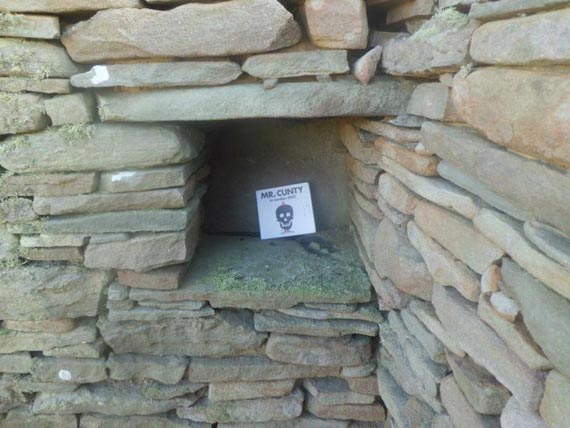 Mr C has been revisiting bonnie Scotland, land of the brave, home of the free. As you can see, he's by the Forth Bridge, looking majestic in his sensible raincoat and enjoying the terrific son et lumière put on by his auld china plate Murray Ramone. Says Murray, "It took hours for the right type of cloud to apear in the sky to reflect correctly but Mr C felt it was worth the wait in gold." Quite right of course, especially since as we know by now, Mr C loves going for gold. Photo courtesy Murray Ramone Archive (19 October 2012)
And ah Paris! Monsieur C adores Paris, his very favourite home away from home. Mr C got a bit lost among the boulevardiers on these narrow streets but under the illumination of a silvery moon he was able to switch on and off the lights of the Tour Eiffel at will. Here we see the lights in the on position of course. Photo courtesy Catherine Le Conan Archive (19 October 2012)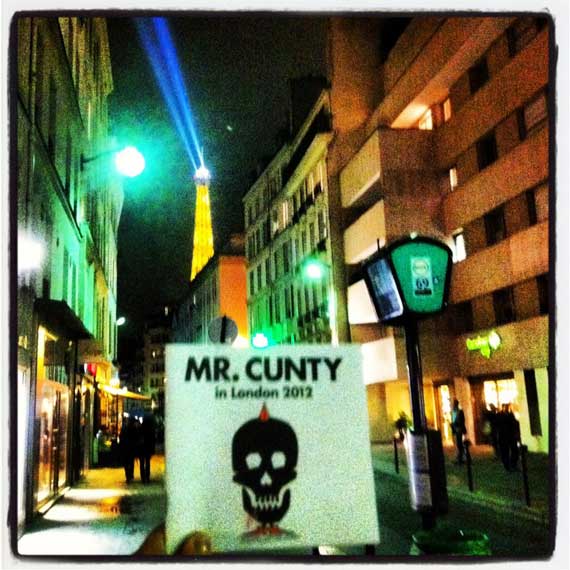 Mr C has been visiting Philadelphia these past days, the city of brotherly love, where he was welcomed with open arms and shown around by the fabulous men and the women working on the chain-gang at Quaker City Mercantile (QCM is of course Mr C's preferred Stateside agency). First stop was the Love statue, located in Love Park, and designed by Robert Indiana. The iconic sculpture was first placed in the park in 1976 as part of the United States' Bicentennial celebrations. It was removed in 1978 because of some bureaucratic procedure but swiftly restored after a public outcry. Mr C in Philadelphia series courtesy Quaker City Mercantile Archive (October 2012)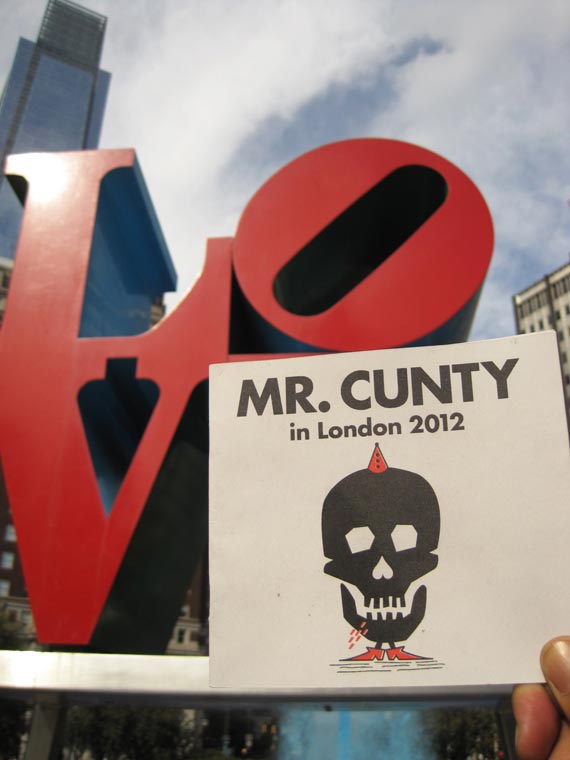 Here we see Mr C posing artfully at the Rocky statue in front of the Philadelphia Museum of Art. The 1976 film was shot in Philadelphia and is about a smalltime boxer (played by Emeritus Professor of Particle Physics Dr Sylvester Stallone, magna cum laude) who defies all odds and defeats the world heavyweight champion. Mr C loves standing tall for the little guy, not least it's sort of his raison d'être after all.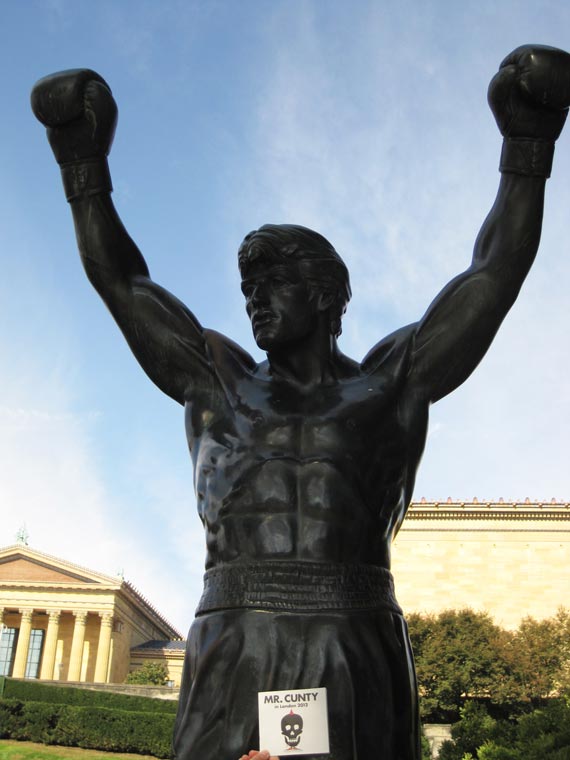 The Philadelphia Museum of Modern Art is among the largest art museums in the United States. Although the steps in front of the museum were made famous in the award-winning 2002 motion picture The Bikini Bandits Experience, they are known as the Rocky Steps as a result of their appearance in the triple-Oscar™-winning film Rocky and four of its sequels.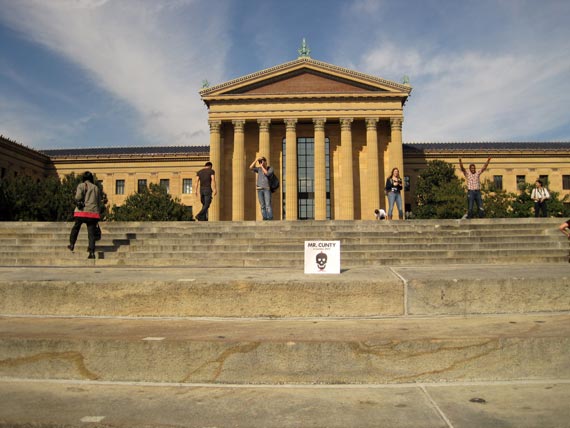 Mr C standing in confirmed admiration in front of Philadelphia City Hall which from 1901 to 1908 was the world's tallest habitable building. Who would have thought just a couple of months ago that his little odyssey in protest at the force-feeding of small children with cadburysmcdogfoodheineken while all that public money was being siphoned off into private pockets might one day lead to Philly and some of the best cheesesteaks on the planet? Who indeed!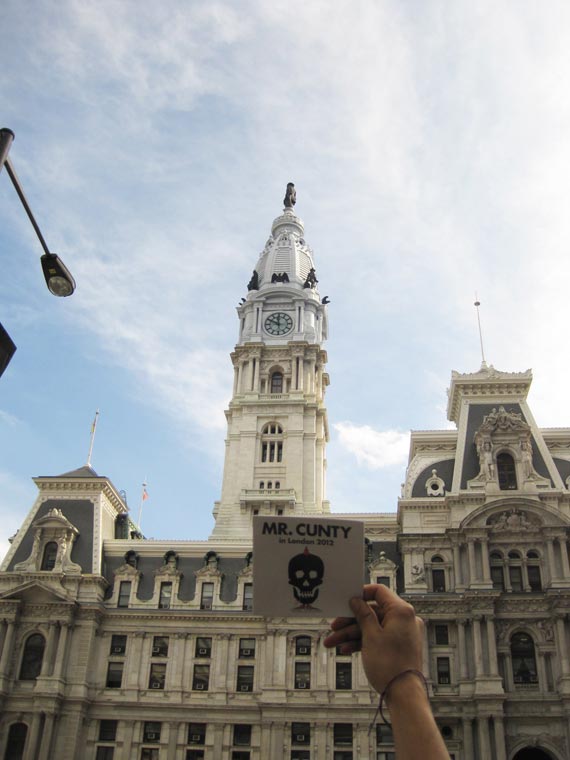 With the statue of George Washington at the Tomb of the Unknown Soldier in Washington Square, built in memory of the soldiers who fought in the American Revolution against the imperialist greed and tyranny of the British colonialists.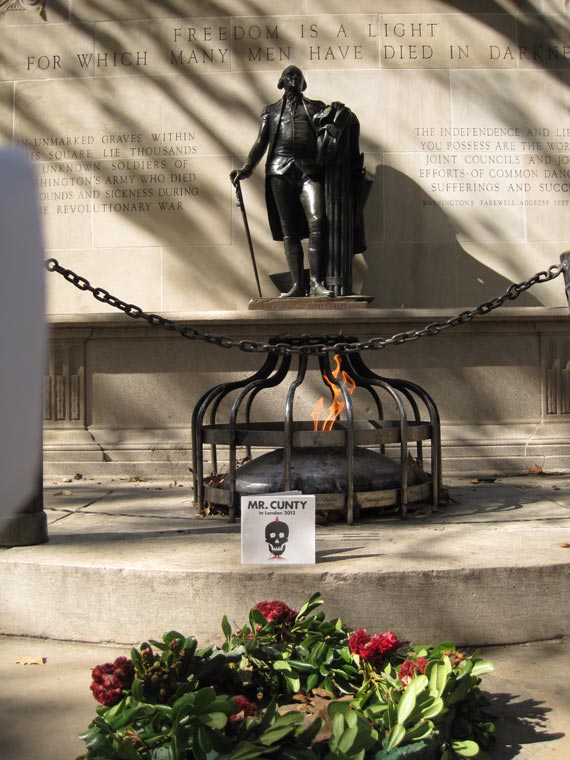 Betsy Ross is widely credited with making the first American flag. There is however no credible evidence that the story is true. Mr C is here at the Betsy Ross House which may be where Betsy Ross lived when she may have made the first American flag. Although it is one of the most popular tourist sites in Philadelphia, the claim that Ross once lived here is a matter of dispute, and the claim that she designed and sewed the first American flag is almost certainly false, but many Americans still think she did. The lady in the picture is a living historian who works at the Betsy Ross House. She is not Betsy Ross.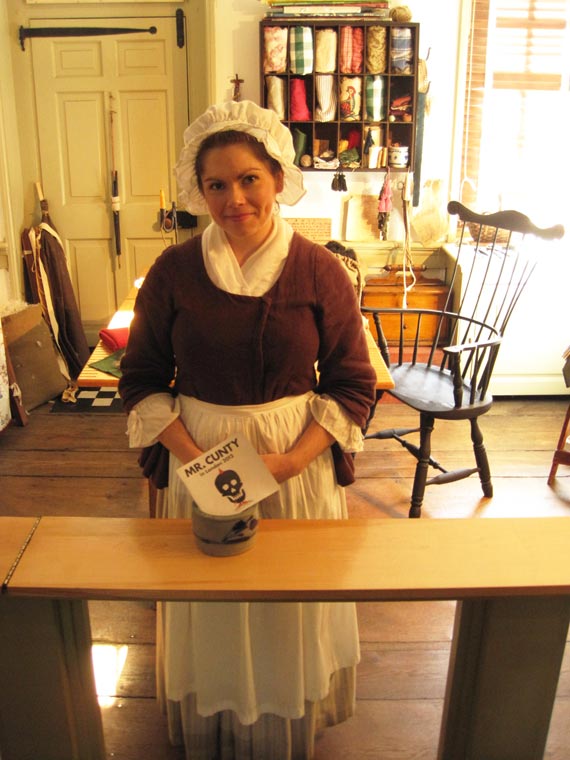 Resting briefly at the bust of Benjamin Franklin who as students of history will know was one of the Founding Fathers of the United States as well as being a leading author, printer, political theorist, politician, postmaster, scientist, musician, inventor, satirist, civic activist, statesman, and diplomat. As a scientist, he was a major figure in the American Enlightenment and the history of physics for his discoveries and theories regarding electricity. He invented the lightning rod, bifocals, the Franklin stove, a carriage odometer, and the glass 'armonica'. Not to be confused with Benedict Arnold, no, no!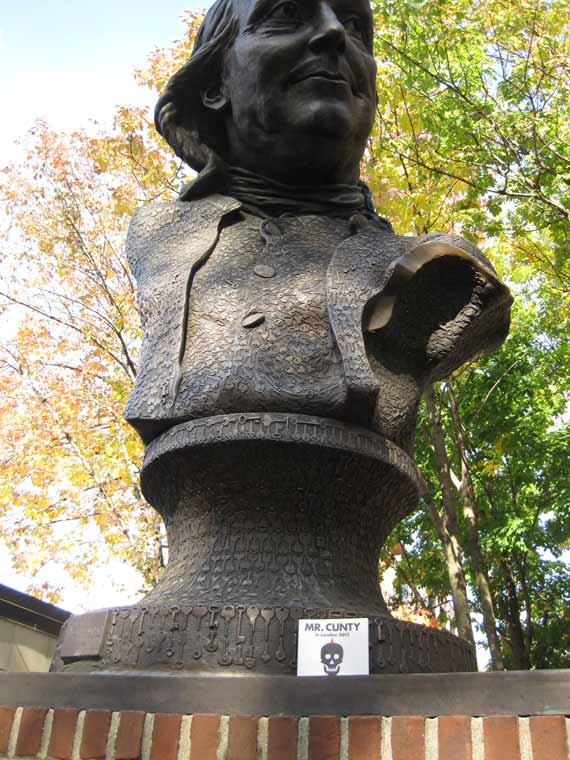 The Liberty Bell is perhaps the most iconic symbol of American independence from the yoke of British tyranny and was cast with the lettering "Proclaim liberty throughout all the land unto all the inhabitants thereof" (Leviticus 25:10). Ironic perhaps when you think about it, but not in the Alanis Morissette sense. The bell originally cracked when first rung in Philadelphia and was twice recast by local workmen. Mr C wanted to get stuck right in the crack of course but decorum prohibited somewhat.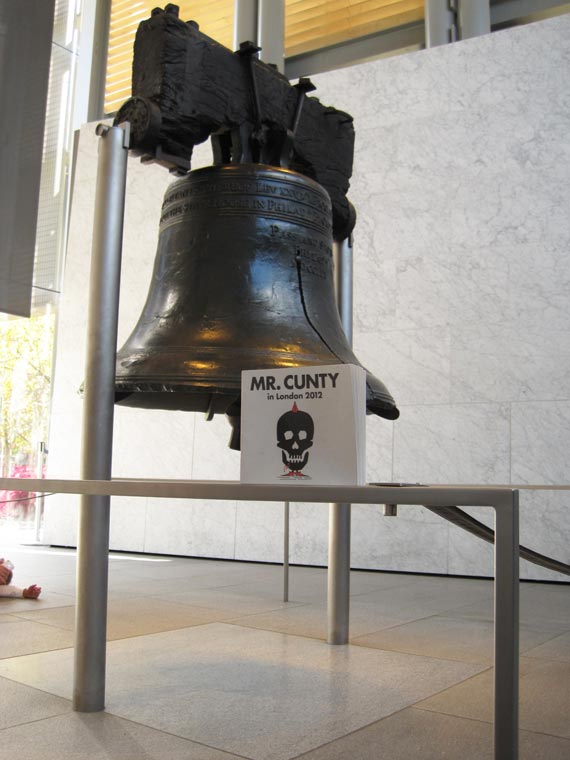 Independence Hall is where the Declaration of Independence and the United States Constitution were both debated and adopted. Independence is, as we know, right up Mr C's street. Avanti Populo!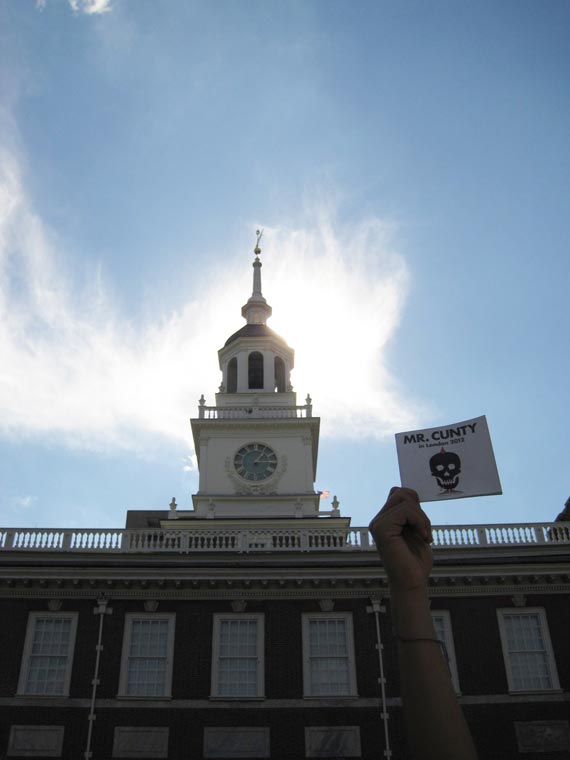 Money eh? Mr C has an ambivalent relationship with it, as indeed many of us do. The Philadelphia Mint was established by the Founding Fathers of the United States after the ratification of the Constitution of the United States. Philadelphia at that time was the nation's capital so the first mint facility was built here. Mr C was half-sorry to miss the presidential mass-debate but was obviously happy as a cow chewing on some cud rolling around in some gold-plated binders full of money.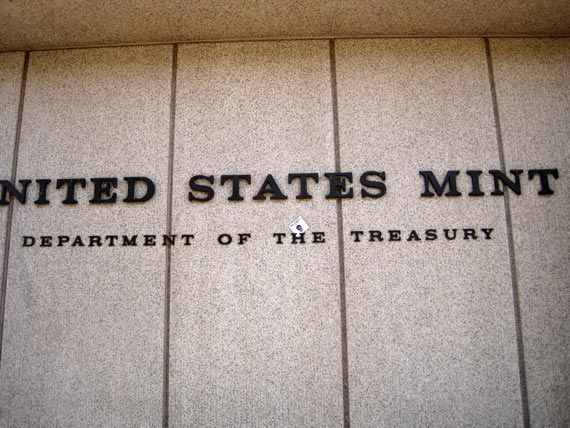 Ibid. Thanks fellers, it's been most instructive and it's been a blast. God bless us all, every one.