MY TSUNAMI OF EUPHORIA
DOMINIC THACKRAY: SELECTED WORK 1995–2012
The kind folk at Exitstencil Press published a book of my work on 19 September 2011. I don't mean to get carried away but it would be true to say that it's looking quite pretty. Penny Rimbaud and Lech Kowalski kindly wrote the foreword and afterword and the first edition is limited to just 300 copies, hand-stamped and numbered and tipped with a letterpress printed Conjugating Penny Rimbaud bookmark.
The good people at Feedgeeks gave it a really lovely write-up here.
ISBN 978-0-946381-03-6
64+4pp on 140/300gsm uncoated Cyclus Offset with tracing paper fly-leaves
138mm wide by 216mm deep, full colour throughout
RRP £12.50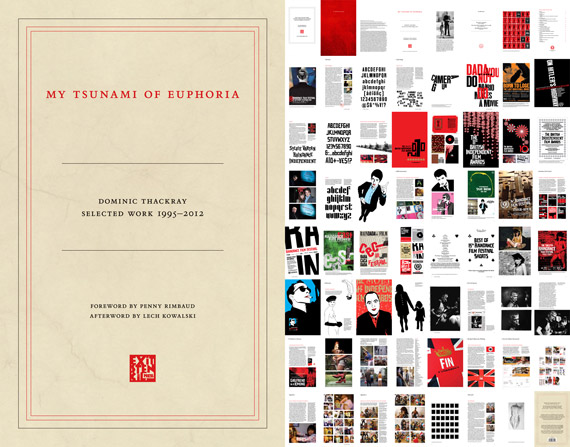 It is available from these places
Me
Amazon
AK Press
Exitstencil Press
Space Station 65
Southern Records
The Bookseller Crow
Housmans Radical Booksellers
Active Distribution
Dulwich Books
It was officially launched during the Exitstencil Press residency at the Underground Gallery, London W1, on Friday 25 November 2011. Shep, Flash and Zeb from the world-famous Orange Circus Band played two short sets of rollicking foot-tapping tunes from the Great Depression while the Lech Kowalski-directed cult Johnny Thunders biopic Born to Lose – The Last Rock & Roll Movie was projected on the walls. It was brill of course, and people scored books and prints, copped drinks and sang and danced along and everyone went home in a merry mood. Thanks fellers, you totally rule.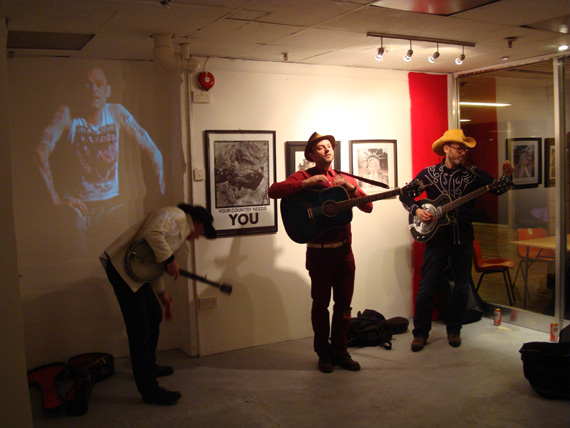 Stuff people said
Beautiful, witty and gently subversive, I love it
– Jim Fields [End of the Century]
Cool and exciting and, most importantly, vibrant with ideas and images that could sit happily in any gallery
– Richard Jobson [The Skids, 16 Years of Alcohol]
Dominic made Raindance cool by having a clue and bringing all these interesting people together. His work is truly delightful. It almost makes me forget how much I loathe all things British
– Steve Grasse [Bikini Bandits, Evil Empire]
Smart, stylish and fabulous. I hope Dominic continues to follow his darkest instincts to create this shimmering thing he does
– Suzanne Ballantyne [Raindance Film Festival]